Northern Morocco 4 days / 3 nights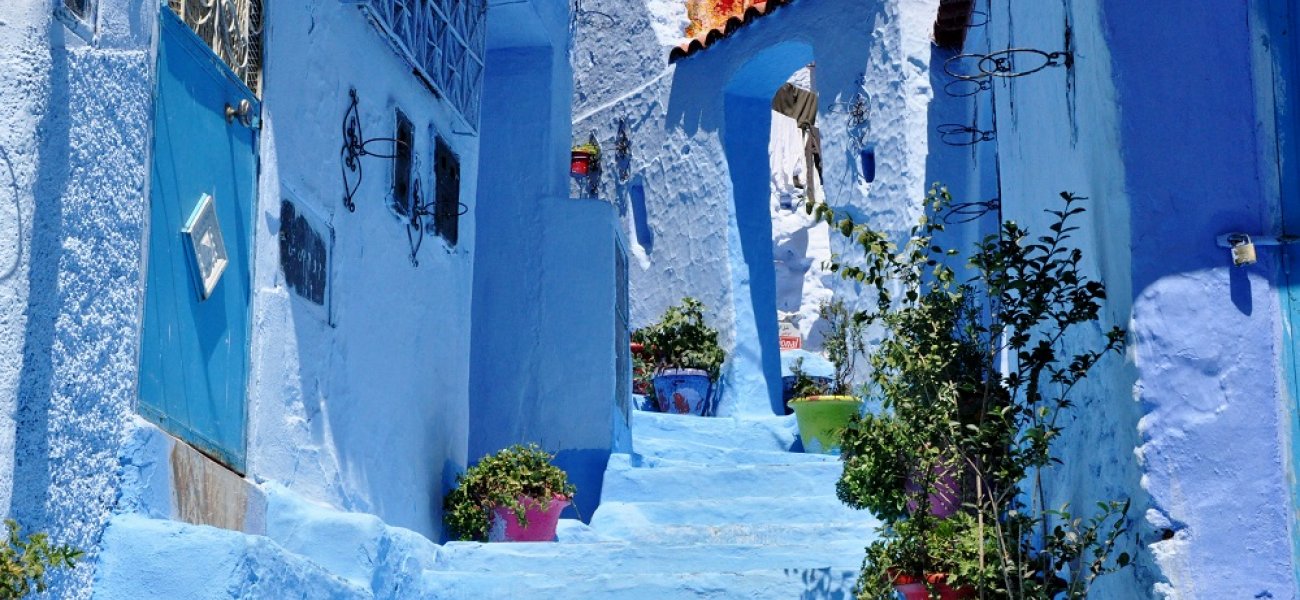 Description of the tour
On this route through Morocco you will explore the Rif mountain range and one of the most enchanting locations in Morocco - Chefchaouen, the blue village so called for the hue of its walls and even streets.
We will visit Fez, capital of arts and crafts, where you can see how articles are still made using traditional techniques handed down from generation to generation.
This route will wend its way through the Middle Atlas, with its fertile plains, lands of olives and fruit orchards, calling at Meknes, an Imperial city declared a World Heritage Site and continue until the village of Asilah, a favourite stop of routes through Morocco for locals and visitors alike.
Itinerary
Day 1
Day 1 Tangier – Chefchaouen
Pick-up at the seaport (or your hotel or riad) at the agreed time to leave for Chefchaouen; located in the northwest of the country, in the Rif mountains, that breathes and sleeps in blue, a city reminiscent of Andalusian villages, with its steep alleys and its steps leading skywards. It was founded by Jewish and Muslim refugees who escaped from the Granada of the Andalus and settled in Chefchaouen, taking with them the sorrow of exile from their homeland and bringing their traditions and customs.
The great diversity of colors of the varied products of the bazaars and shops, make a wonderful contrast to the pale blue of the town.
Overnight in Chefchaouen
Day 2
Day 2 Chefchaouen – Fez
Breakfast and departure, crossing the Rif mountain range to Fez.
Guided visit of the city of Fez.Imperial city of Morocco, Fez, declared a World Heritage Site by UNESCO, is truly one of the most beautiful cities in the country. With its maze of winding alleys that hug the contours of the bowl it is set in, smells, which appear in a corner to disappear a few meters further, souks that are a melting pot of all imaginable wares, often separated by type, such as the legendary tanners' quarter –Chouara, Fez is a place to cast yourself back in time.
Overnight in Fez
Day 3
Day 3 Fez – Meknes – Asilah
Morning departure from Fez to continue our route through Morocco to Meknes, another Imperial city, declared a World Heritage Site by UNESCO in 1996, given the singularity of the architectural complex of the former 17th century capital of the Maghreb, which combines Islamic and European elements. Known for its impressive city walls and thoroughbred Arab horses, original to this area.
Depart after lunch and overnight in Asilah.
Day 4
Day 4 Asilah – Tangier
Asilah is located on the north of Morocco's Atlantic Coast, 50 km from Tangier. It has a very long history, controlled as it was by the Phoenicians, Greeks, Romans, Carthaginians, Portuguese, Spanish and Arabs. Asilah was given its name by the Arabs, though the Romans knew it as Constancia, the Phoenician - Zilis.
The biggest draw for visitors is the clean, well-kept medina, perhaps the most pristine in Morocco. Its white streets with blue plinths, are adorned by flowers of locals who decorate their houses, making a stroll here a relaxing experience.
Afternoon departure to Tangier and end of our services.
Ask for information
Further information